MENU
Gracciano della Seta
26 October 2017
THE VINO NOBILE GAP
The market for vineyards in Montepulciano is booming, reports Michaela Morris. But will these investments ever pay off?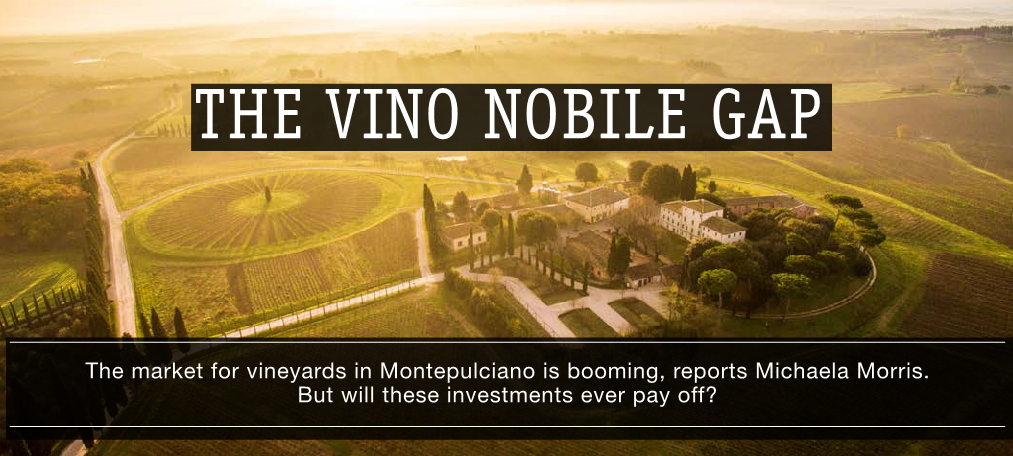 For anyone who has ever dreamed of owning a winery in Tuscany, now is the time to buy in Montepulciano. A mere €100,000.00 ($107,315.00) per hectare can buy you an established vineyard. Compare this with nighbouring Montalcino, where €500,000.00 per hectare is the going rate, or Chianti Classico, where prices are reported to be €350,000.00 to €450,000.00.
The spread between land price in Montepulciano and Montalcino has not been lost on the business savvy. "There are companies making big investments because the real estate value is quite low but the potential is great," says Nicolò De Ferrari Corradi of the esteemed Boscarelli estate. "The area has a long history of production." Vino Nobile di Montepulciano was among Italy's original DOCs in 1966 and the first to be released with DOCG status with the 1980 vintage. It is a much more historical wine than Brunello; it was cited more than 2,000 years ago by Titus Livius in his History of Rome; later praised by Voltaire in his opus Candide; and favoured by Thomas Jefferson.
The region's prestige is what drove Switzerland's Schenk group to purchase Azienda Lunadoro in April 2016. "Schenk has been going upmarket for the past 15 years, "explains François Schenk. "We needed to have a premium flagship in Italy and Tuscany is a must!" The company looked in both Montalcino and Montepulciano, but "Lunadoro had it all: healthy vineyards with the right clones, modern winery, and a skilled winemaker," Schenk says. The 40-ha property boasts 12 ha of Vino Nobile with an additional 18 ha soon to be planted.
Buyer beware
Despite past glories and perceived potential, Vino Nobile is not without its challenges. The obvious confusion between the town of Montepulciano – which gives the region its name – and Abruzzo's Montepulciano grape is ongoing. Furthermore, the brand of Vino Nobile is blurred by a large diversity of expression due in part to a relatively low minimum percentage of Sangiovese (70%) with a long list of blending grapes within a heterogeneous territory. Brunello offers a much stronger identity.

Vino Nobile also languishes behind Brunello in terms of price. The Consorzio del Vino Nobile di Montepulciano reports an average ex-cellar price of €7.50 per bottle to Brunello di Montalcino's estimated €20.00. However, De Ferrari Corradi believes that it is futile to speak of an average, as the price range on store shelves is too vast. In Europe, "Boscarelli sits at the higher end of the spectrum, selling for €20.00 to €22.00 retail; however, you can find Vino Nobile for €5.00 to €7.00," he says. It is a struggle for him to explain to customers why there is such a big difference. Caterina Dei of Cantine Dei notes the same discrepancy in the US market. "The reality is the bottling companies that account for almost half of the production are filling supermarkets, and this is damaging the image of Vino Nobile worldwide," she says.

Both De Ferrari Corradi and Dei recognise that the top priority is raising overall quality to reduce the price gap. Their goal is to eventually increase prices to correspond with the quality of wine they put on the market. "I am not saying we should be selling wine for €50.00," says De Ferrari Corradi, "but if everyone succeeded in selling between €18.00 to €25.00, the denomination would be strengthened and much more aligned in terms of price.

"So why invest in Montepulciano? "I am always for the underdog," says Virginie Saverys, defending her purchase of Avignonesi. "There is beautiful terroir in Montepulciano, and if you work well you can make very elegant wines." The Belgian exlawyer comes from a shipping rather than a wine background; however, she knew the former owners of Avignonesi for many years.  When one of the brothers decided to leave the business in 2007 she bought his 30% of the shares, viewing it as a midterm real estate investment. Instead, as the remaining brother didn't hold up his end of the deal, Saverys exercised the options of their shareholder's agreement, taking 90% in 2008, then 100%of the company in 2009. "From one day to another we were owners of a property in Montepulciano."

Regional investments

Saverys has not disclosed the cost of the buyout. Of the transaction, she says "my partner Max [de Zarobe] would say it was a mistake." Previously, the property had been poorly run, both financially and viticulturally. Furthermore, when they originally invested, the land had a higher value (€120,000.00 to €150,000.00 per ha). Regardless of the economic downturn, they bought additional vineyards at a lower price in order to average down their assets, essentially doubling in size. Most significantly, they acquired the Lodola estate from Ruffino in 2012. The €14m purchase included 66 ha of Vino Nobile vineyards and a muchneeded modern winemaking facility built in 2003. "It was a fantastic deal," says Saverys. "I either purchased the vineyards for nothing or the winery." She spent an additional €1m upgrading the facility.
Investments at Avignonesi have not ceased. The next project is to build a warehouse where they can bottle, age, label, and ship the wines. For this, Saverys estimates another €6m to €7m. She spent an additional €1m upgrading the facility. The question is, will these investments ever pay off? "We are not yet making money with Avignonesi, but I am confident one day we will get there," answers Saverys.
De Zarobe, who is in charge of sales and marketing, sees it as an investment for the next generation. "If we sold today, it would be bloodshed," he says. Nevertheless, he believes a liability can be turned into an asset with enough work and cash. The money the couple has made in their shipping businesses is funding it, and de Zarobe is betting on narrowing the five-to-one spread between  Montalcino and Montepulciano. He recognises soil as their number one asset. "If we want to sell this land at a real value tomorrow, we need to care for it today." Saverys, who oversees the production, has been committed to this from day one. As of 2016, Avignonesi is 100% certified organic and is currently going through biodynamic conversion to achieve Biodyvin certification. The increased farming cost per hectare over conventional viticulture is €1,500.00.
Avignonesi isn't the first organic winery in Montepulciano. Estates such as Il Conventino and Romeo have been certified for years. However, as Avignonesi now counts 165 ha of planted vineyards, it is by far the biggest organic winery in the region and the largest in Italy. The sheer size has brought attention not just to Avignonesi but to the region as a whole. It has not yet translated into the ability to charge more though. "I would dream to sell my wine much more expensively," admits Saverys. "But, at the moment, you have to realise what the market forces are."
Almost every producer asked during Meininger's visit to the region seemed to be converting to organic viticulture. Tenuta di Gracciano della Seta has been pursuing organic certification since 2015. However, when Vannozza della Seta took over her family's 20-ha estate in 2011, her first order of business was the cellar. As the winery lacked a proper winemaking facility, her father Giorgio della Seta funded the construction with his earnings from running a multinational company. The 1,000-square-metre facility was completed in 2013 at a cost of €2m, including all the equipment.
Beppe Rigoli, who has been the oenologist at Tenuta di Gracciano della Seta since 1995, says that while the new winery is a great improvement to the estate, its earnings do not equal the cost from an economic point of view. "Investment in agriculture, even in a superior zone like Vino Nobile di Montepulciano, can usually only be made with capital that comes from activities outside the estate," he says. "They are usually considered equity investments rather than productive investments." He adds that estates which rely on loans for such expenditures often find themselves in serious financial trouble.
Two-speed economy
Economic difficulties are an unfortunate reality of the zone and linked to the surfeit of low-priced Vino Nobile di Montepulciano. Those in financial distress may be desperate to sell wine at any price. Those in financial distress may be desperate to sell wine at any price. The customary sales channels do not help either. Within Italy, wineries traditionally sold directly to trade customers, who paid later, if at all. For some, this has led to an imploding bubble of debt. Others are changing how they do business to protect their investments. "In 2015, we gave distribution in Italy exclusively to Gruppo Meregalli," says De Ferrari Corradi. Besides streamlining distribution, payment is reliable.
Similarly, when Saverys and de Zarobe took full control of Avignonesi, they immediately stopped working with customers who weren't paying. The Italian market went from representing 70% of sales to 10% to 15%. This has since increased to 25%.
This is reflective of the shift in sales markets of Vino Nobile di Montepulciano in general. As recently as 2010, the by-volume split was 41% to 59% between the domestic and export markets. In the last three years, the average has been 20% to 80%. Germany remains the most important export market at 46% in 2016. The US places second and has grown from representing 14% of exports in 2010 to 21% in 2016. "Our biggest interest now is in the USA," says Silvia Loriga from the Consorzio del Vino Nobile di Montepulciano. Individual wineries are also investing their time and money there. Avignonesi has joined forces with five other estates (Boscarelli, Dei, Salcheto, Poliziano, and La Braccesca) forming an 'Alliance' to promote quality Vino Nobile during a two-day event in New York City May 2017.
As the old adage goes, to make a small fortune in the wine industry, it takes an even larger one. In Montepulciano, the latter has certainly proven true. When and if a small fortune can be made remains to be seen. In the meantime, while the region's top producers invest in improving quality, their Vino Nobile have never offered better value for the consumer.

↑